By default, DropStream updates only those inventory items that have recently changed. This is called Smart Sync. It is also possible to update the whole inventory (Full Sync).
Smart Sync
By default, all connections use Smart Sync. This synchronization process is true to its name in the sense that it only updates those inventory items that have changed since the most recent sync, and in this way reduces the overall burden on the system.
For example, let's assume that a store has five inventory items and uses the default sync settings, i.e. Smart Sync, on March 2, 2020, at 3 pm. Then looking at the inventory data below,
| | | |
| --- | --- | --- |
| SKU | QTY | Last Update |
| A | 5 | 3/2/2020 2:30 PM |
| B | 10 | 3/2/2020 2:30 PM |
| C | 3 | 2/5/2020 11:00 AM |
| D | 6 | 2/5/2020 11:00 AM |
| E | 10 | 1/5/2020 9:30 PM |
we see that the SKUs A and B were updated recently, indicating a recent change in their quantity. SKUs C and D, however, were last updated on February 5th and were ignored by the recent inventory update that is by default a Smart Sync.
Full Sync
Differently from Smart Sync, Full Sync updates each inventory item, and sync even those items that have not changed after the previous sync.
So assuming the same SKUs as in the example above, even though there were no recent changes in the quantities of SKUs C, D and E, Full Sync would still update the quantities with the same values that they already had.
Full sync should be executed as the first inventory sync after connecting a new store and a warehouse.
To launch a full inventory sync on demand,
From your DropStream dashboard main menu, select Connections.
Select your desired Connection.
Go to the Inventory tab.
On the Control Panel, click Actions.
Select Full inventory update.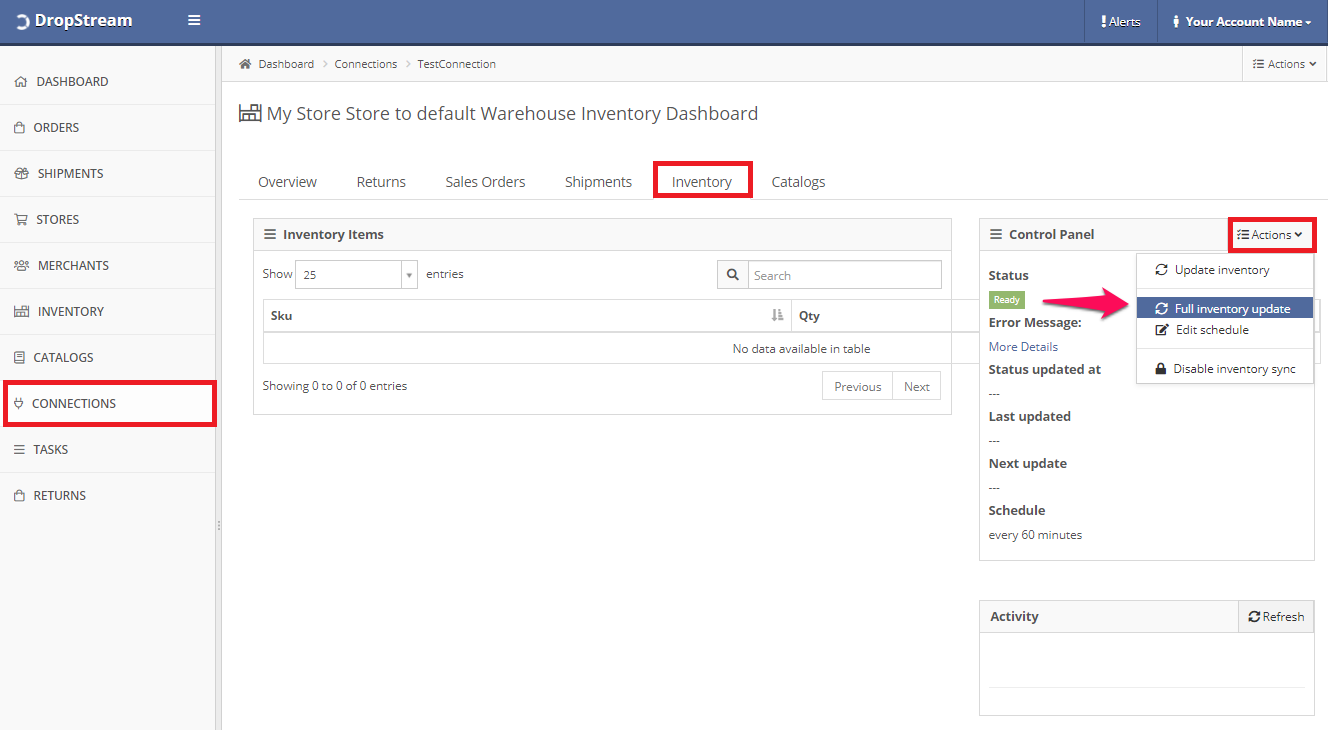 To always use Full Sync instead of Smart Sync in automatic inventory updates, contact the DropStream Support Team.