Welcome to DropStream! This Quickstart guide will help you to set up your DropStream account and to connect your store, merchant and warehouse for seamless order management.
Step 1: Configure your account
First, take a moment to review the configuration of your DropStream account.
Open your DropStream Dashboard. Click Your Account Name in the upper-right corner of the Dashboard, then choose Account settings.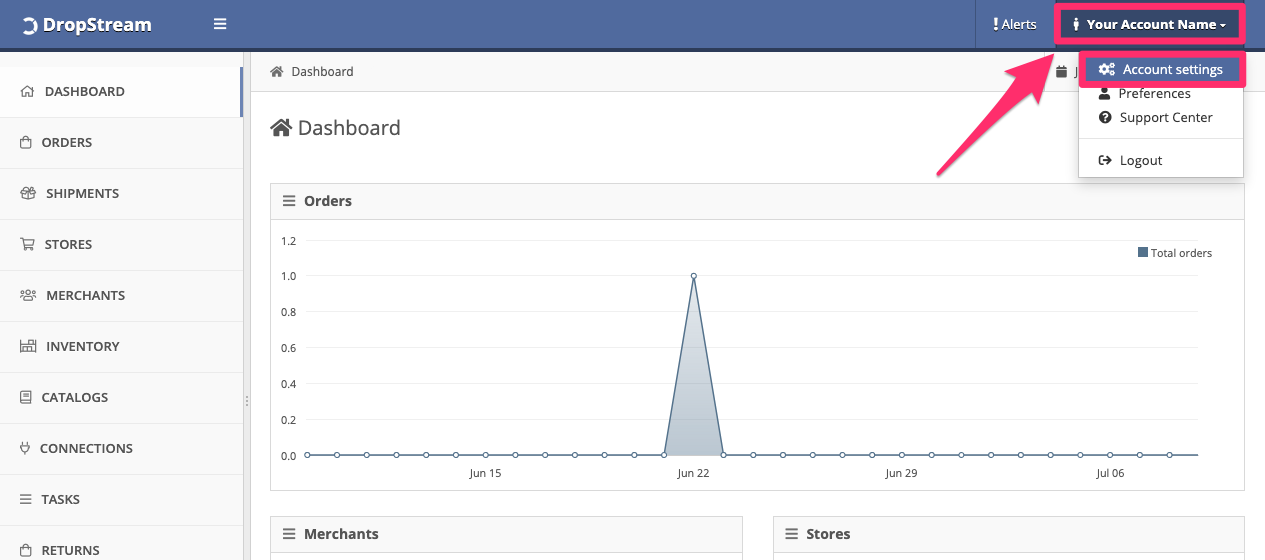 Your account settings are organized in tabs where you can configure, update, or cancel your account.
Alert Settings - Configure notifications.
Profile - Set the display name of the account.
Staff accounts - Add and delete users, configure their roles (Administrator, Staff User, Merchant) and permissions.
Warehouse Management System - Configure your default warehouse platform and carrier codes, used to create mappings from an eCommerce store's shipping methods to your WMS carrier codes. Contact the DropStream Support Team if you'd like assistance, or information about further settings.
Plan and Billing - Update your billing information, including payment method and contact information.
Cancel - Close your DropStream account, cancelling your subscription and permanently deleting your data.
---
Step 2: Connect a store, merchant and warehouse
DropStream connects eCommerce merchants, stores, and third-party warehouses to automate order fulfillment.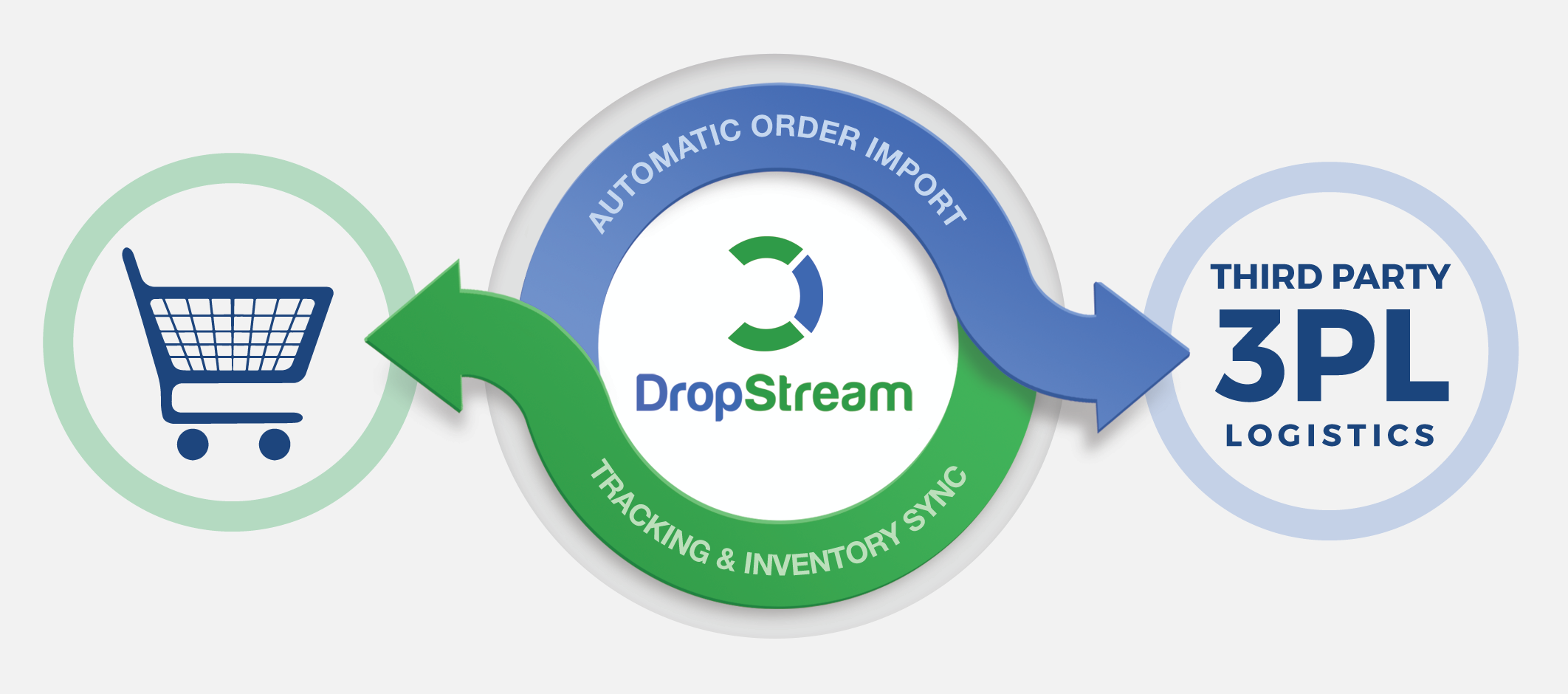 Follow these steps to connect a new Store, a Merchant and a Warehouse in your DropStream workflow.
In your DropStream Dashboard, click Connections.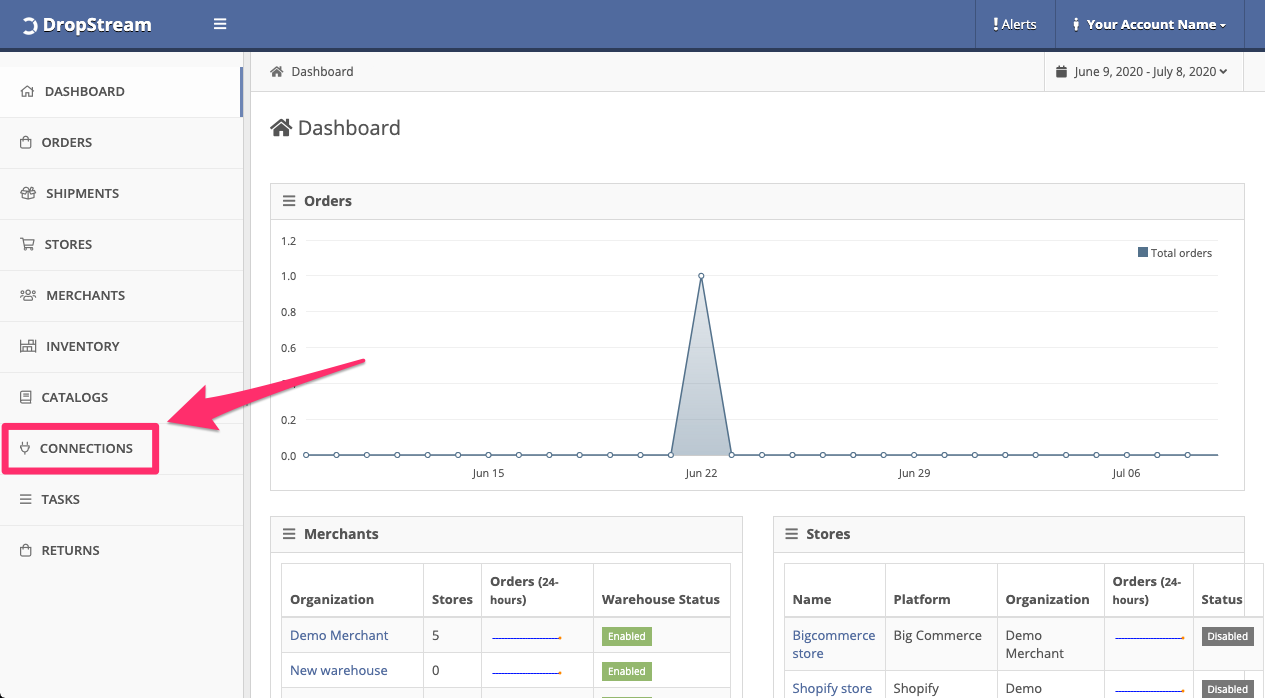 In the upper-right of the Connections view, click Add connection.

The Connection Wizard opens to guide you through the connection setup. Under Basic Information, enter a name for your new Connection, and click Continue.

Under Merchant Information, in the Create a new merchant field, enter the Merchant name (in subsequent connections, this Merchant will be available from the Select a merchant dropdown). Click Continue.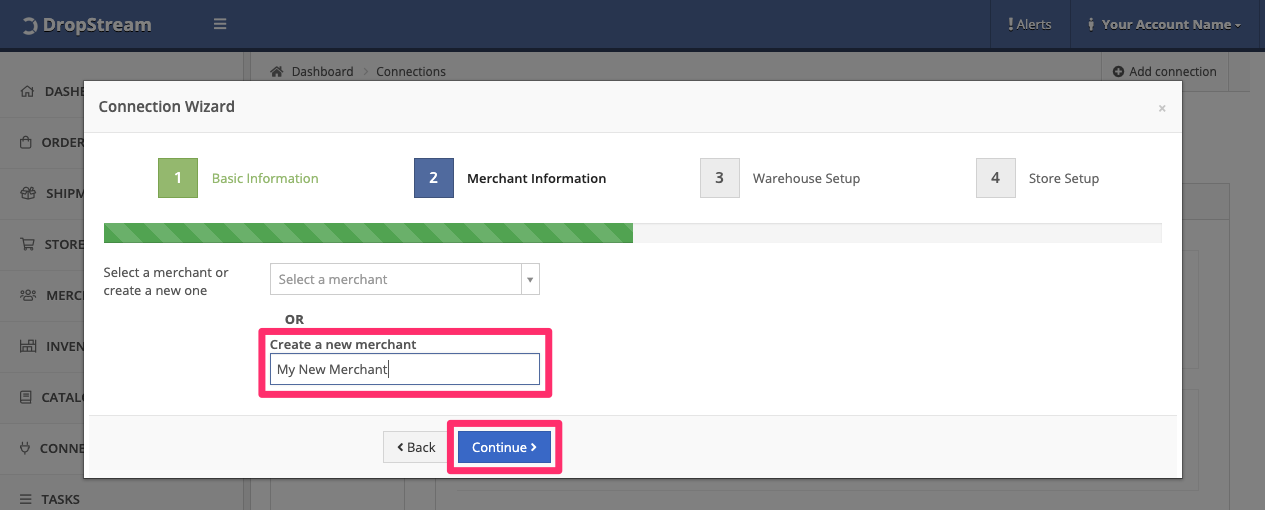 Under Warehouse Setup, configure the FTP credentials for your Warehouse. Click Test Connection to verify the credentials, or click Continue.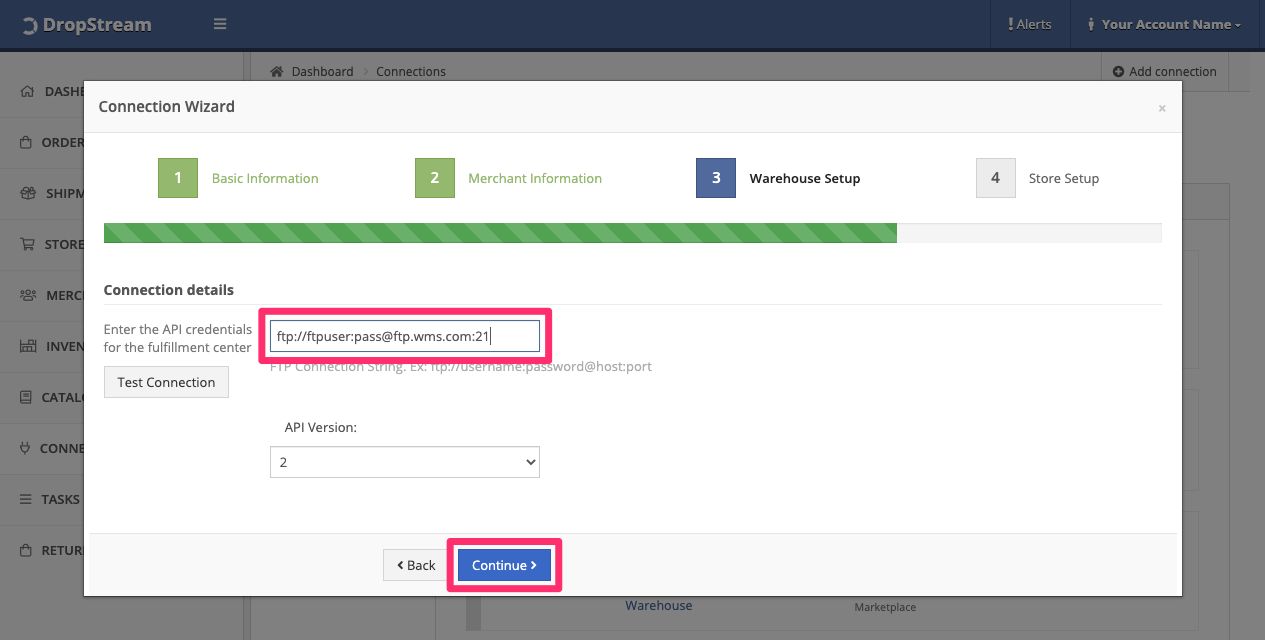 Under Store Setup, in the Store Name field, enter the name of the store. In the Select a Platform dropdown, select the store's platform. DropStream supports nearly 100 eCommerce platforms, such as Amazon, eBay, etc. In this example, we've chosen Amazon (US).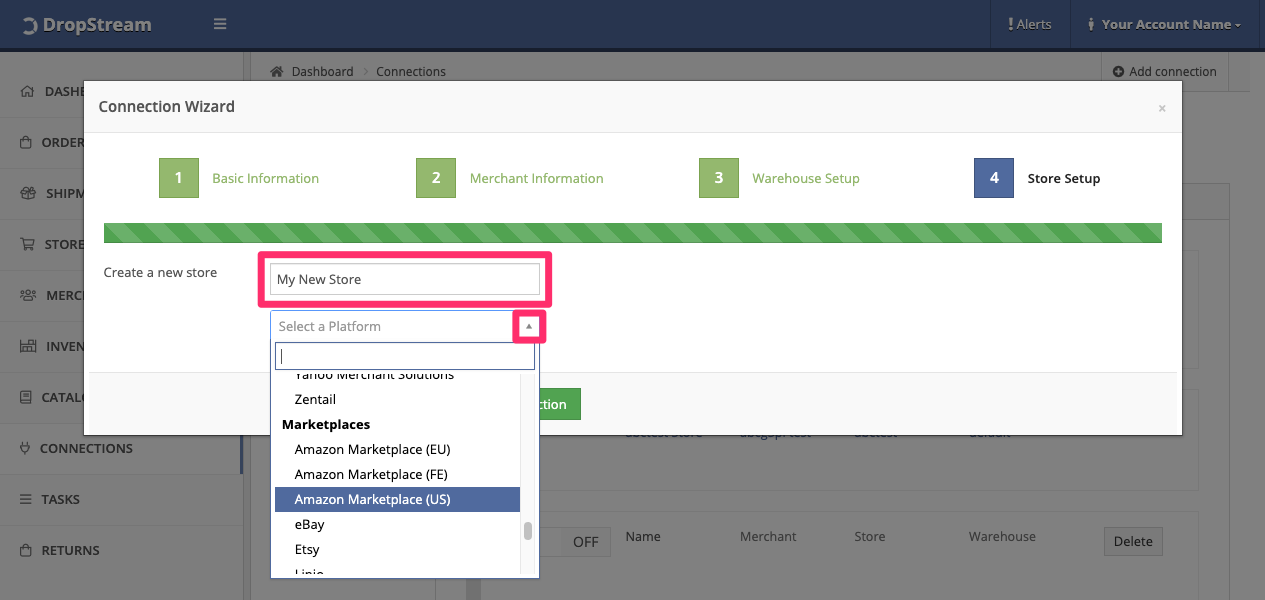 After selecting the platform, enter its connection details. In order to do that, you will need to gather the API credentials from your eCommerce platform. Click Test Connection to verify your details. Then click Add Connection.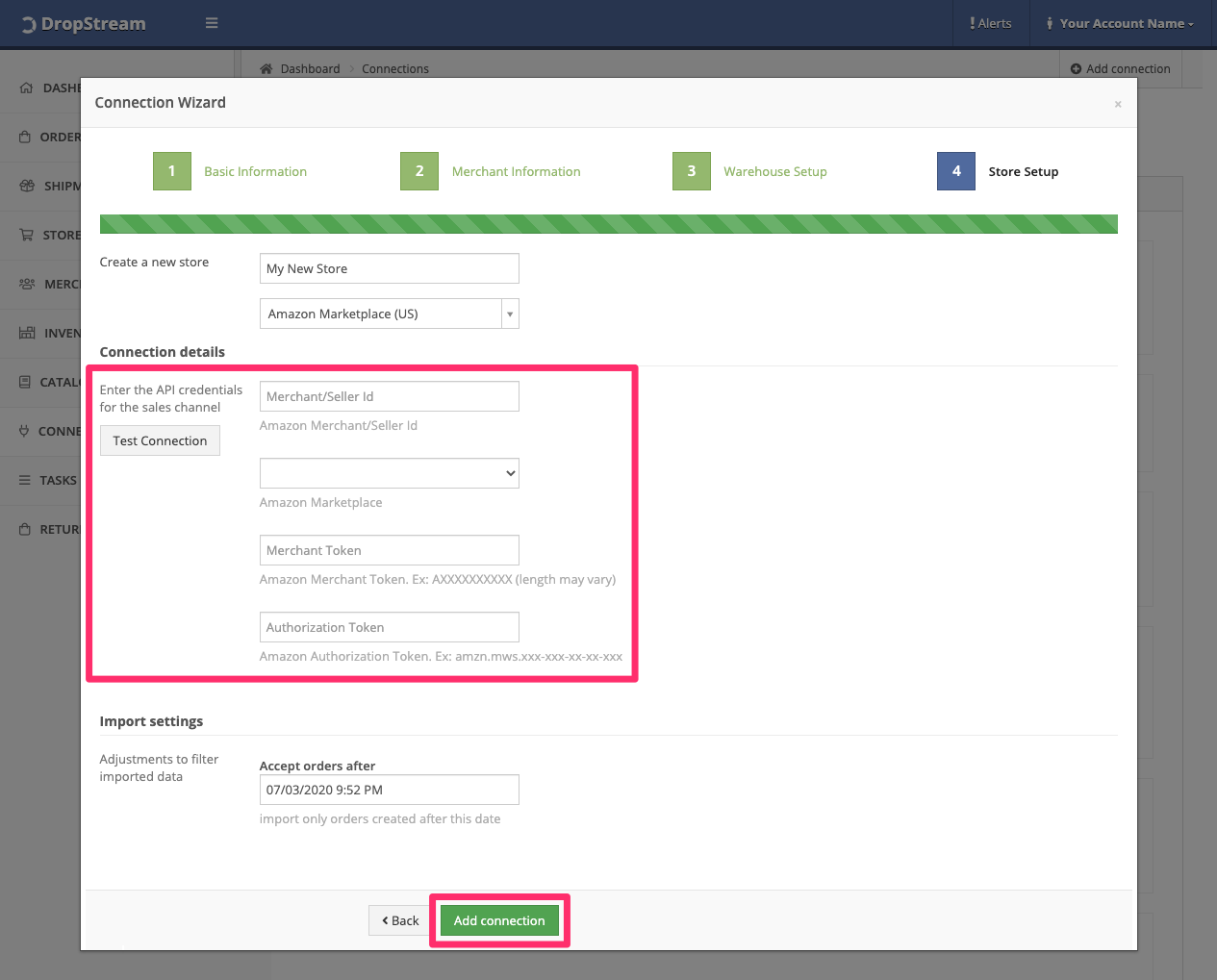 The Connections view displays your new Connection. Your Store and Warehouse are now connected, with your Merchant in the middle, monitoring and controlling the connection.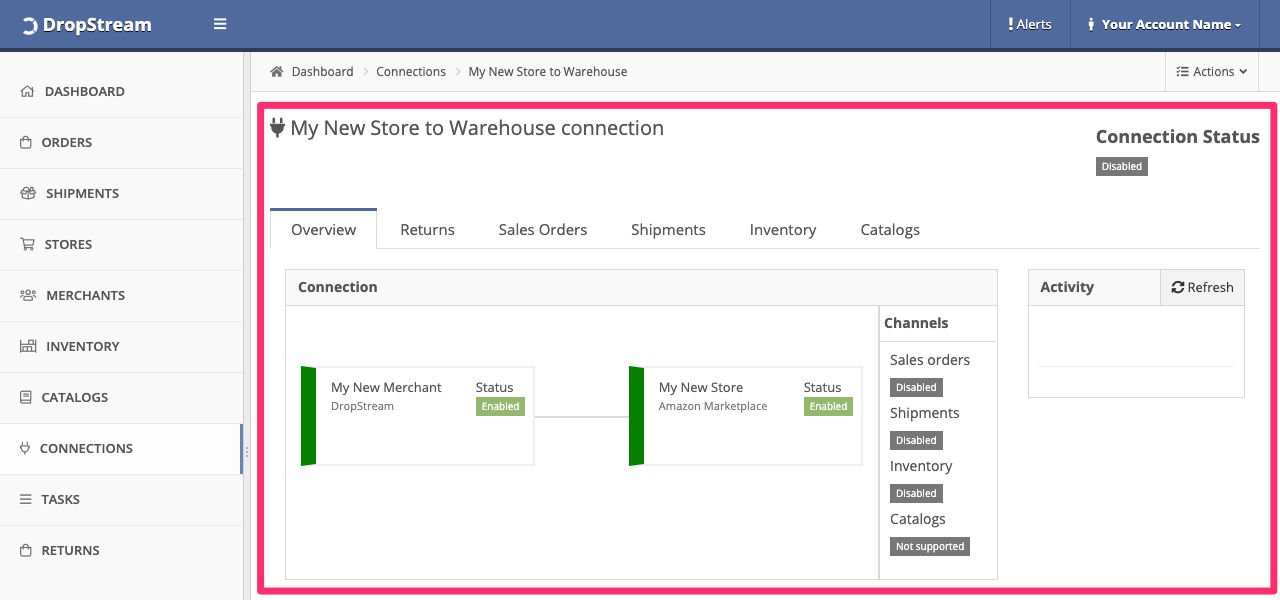 The new Connection is initially disabled. To enable it, in the upper-right of the Connections view, click Actions > Enable.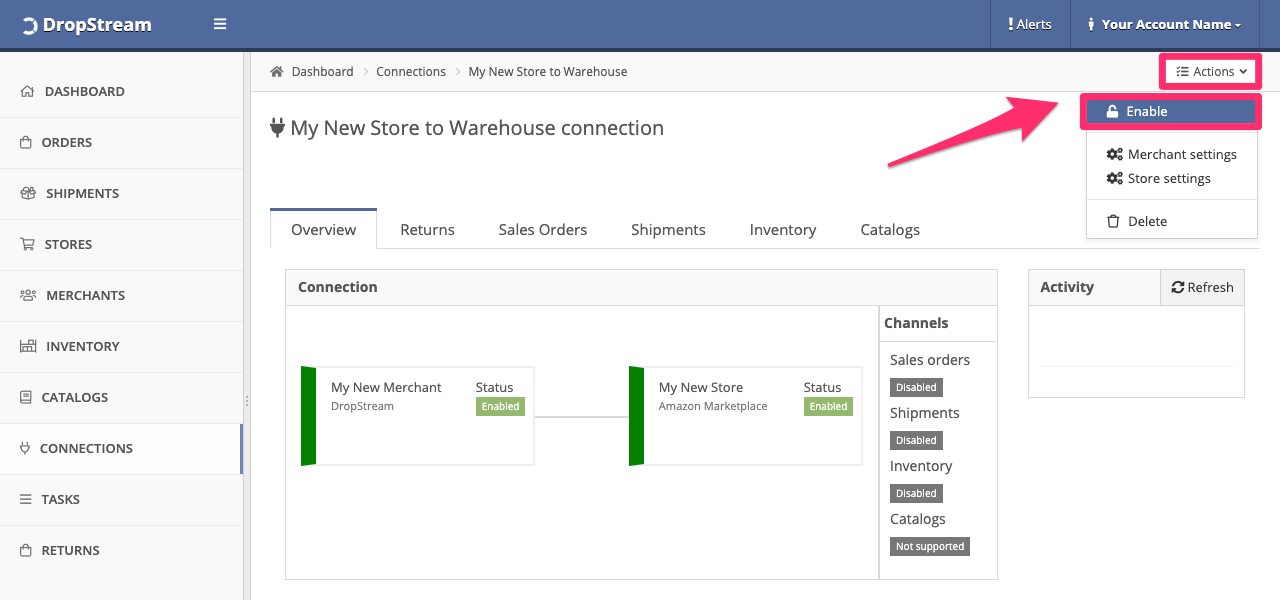 Refresh the page, and you'll notice the gray Disabled indicator is now green, and Enabled.

Congratulations!
Your connection is now active and orders will be automatically imported from the shopping carts of your Store to the warehouse management system (WMS) of your Merchant. This will happen every 15 minutes.
Likewise, the warehouse inventory information will be pulled from the WMS and sent to the carts of your eCommerce system. This will happen every 60 minutes. Order tracking information will be sent to the carts every four (4) hours.
You can add as many different stores for your Merchant as you like, by repeating the process described above.
---
Step 3: Customize your fulfillment workflows
The connection between a Store, a Merchant and a Warehouse can be customized to streamline your order fulfillment workflow. For example, you can direct that all orders labeled "Free Shipping" at your store be shipped by "USPS - Priority Mail" at your warehouse.
Workflow customizations in DropStream are implemented by order rules. Order rules are optional, except for the Shipping Transformer rule, which must be defined before DropStream can automate order fulfillment. This is so, because different warehouses use different shipment codes ("carrier codes"), and DropStream needs to know which codes your warehouse uses.
The Shipping Transformer order rule maps the shipping methods used by your eCommerce platform to the carrier codes used by your warehouse management system (WMS). When the WMS receives the order, the warehouse will know exactly how to ship the package.
Add a Shipping Transformer Rule to your Store
In the left pane of your DropStream Dashboard, click Stores.
On the right, click your Store name.

Click the Rules tab.

Click +Add rule.

In the Name field, enter a descriptive name for your rule. Then, click +Add Action.

In the Select action to perform dropdown menu, choose Shipping Transformer.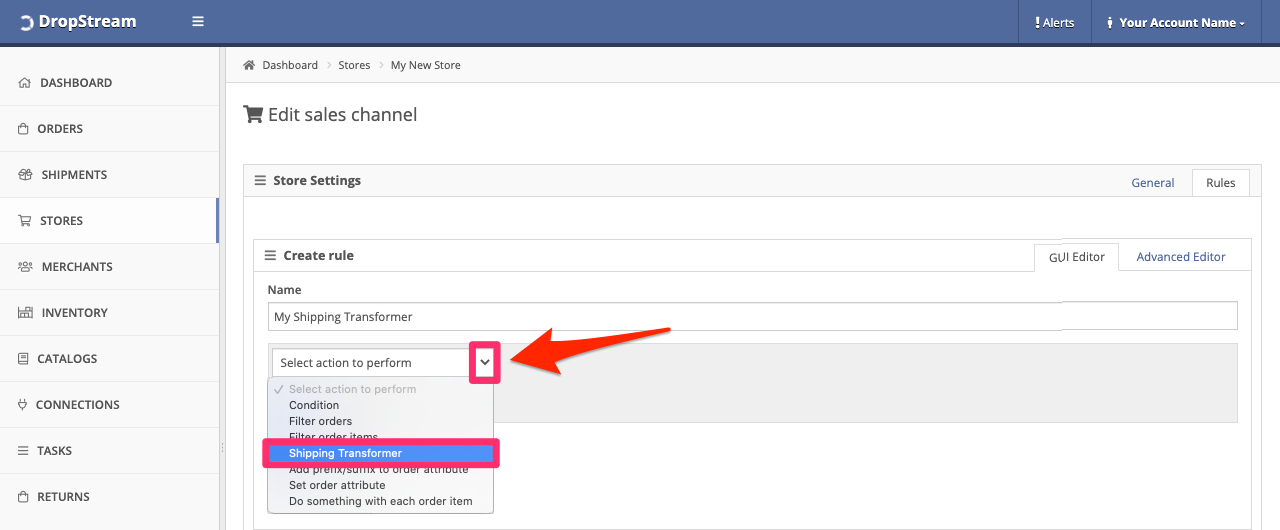 Next, configure the rule condition ("if this is true"), which defines the requirements for the rule action ("then do that").
In the IF clause, enter the shipping description from your Store.

Note: The text of the shipping description must exactly match the way it appears in your Store.
In the THEN clause, click EDIT.

In the SHIP VIA dropdown, select the warehouse shipping method to use for orders that match your shipping description. Click OK.

Tip: After you have incoming orders in DropStream, you can gather shipping descriptions from existing orders. In the DropStream Dashboard, click Orders, then click any order to view its details, including its shipping description.
To finalize the rule, click Save changes.

Note: The Shipping Transformer is the only required order rule. However, using the DropStream Rules Engine, you can create a variety of custom rules to tailor your fulfillment workflows as needed. To add new rules at any time, from the DropStream Dashboard click Stores > Store Name > Rules. For more information, see About Order Rules in the DropStream Help Center.
Step 4: Test your setup
After you have connected a Store, a Merchant and a Warehouse, and customized the integration, we recommend that you monitor the first set of orders to verify that they are entering your system correctly. You can do this either with real orders, or with test orders.
Real orders - Once integration is enabled as described above, DropStream will automatically pull in live real orders and send them to your WMS. You can process these orders as normal.
Test orders - Most eCommerce systems allow store administrators to create orders for testing purposes. We recommend that your Merchant will create two test orders from within their eCommerce system, and you process these dummy orders using dummy tracking information.
What to watch out for:
Verify that orders are entering DropStream correctly from the eCommerce system.
Verify that orders are entering your WMS correctly from DropStream.
Process the orders by marking them as Shipped in the WMS and adding tracking information.
After the Order has been processed, verify that the Store has been updated along with any tracking information.
When testing, keep in mind that it will take 15 minutes for a WMS to be updated and 4 hours for a store to be updated (see above).
That's it — you're all set! DropStream is automatically importing orders from the shopping cart in your Merchant's online Store to your warehouse management system, and sending tracking information from the WMS back to the Store.
Want to know more?
Request support with any further questions, we're here to help with anything you need.